Back to latest news articles
News - August 19, 2014
Now the real iBeacon fun starts!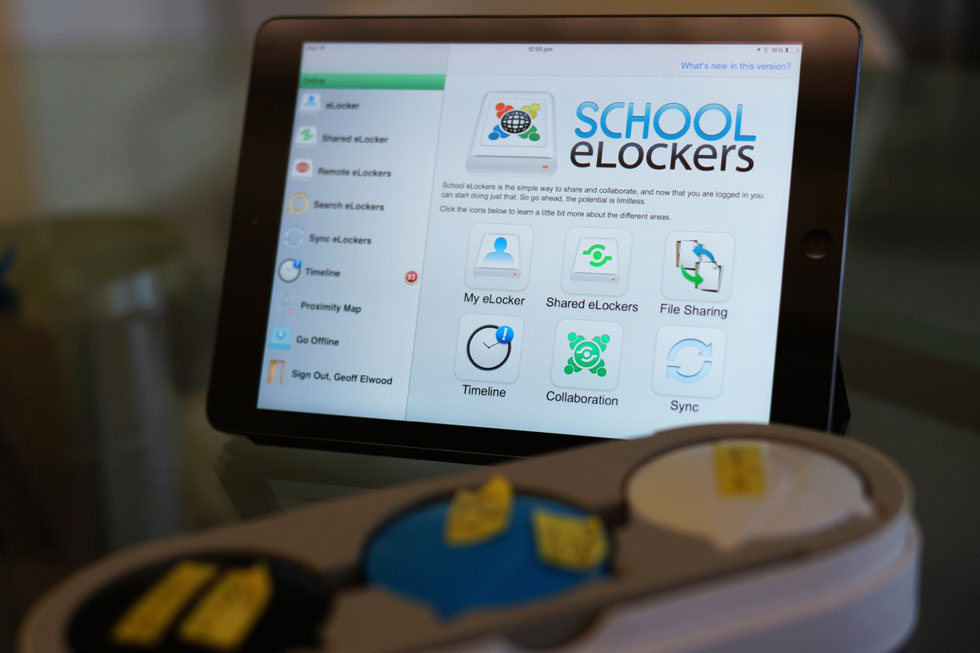 After two months of intense development and collaboration and feedback from the folks at Haileybury and Bryanston, we have completed the first major milestone for our iBeacons Collaboration Project.
For anyone unfamiliar with our project and the stated goals etc, there is a link to the details here
Our eLockers system has undergone some major new development and refinements as part of the project. Here's a summary of where we are at:
1. We are introducing a new "Pinboard" concept, that allows a teacher to quickly and simply "pin" any content to a beacon.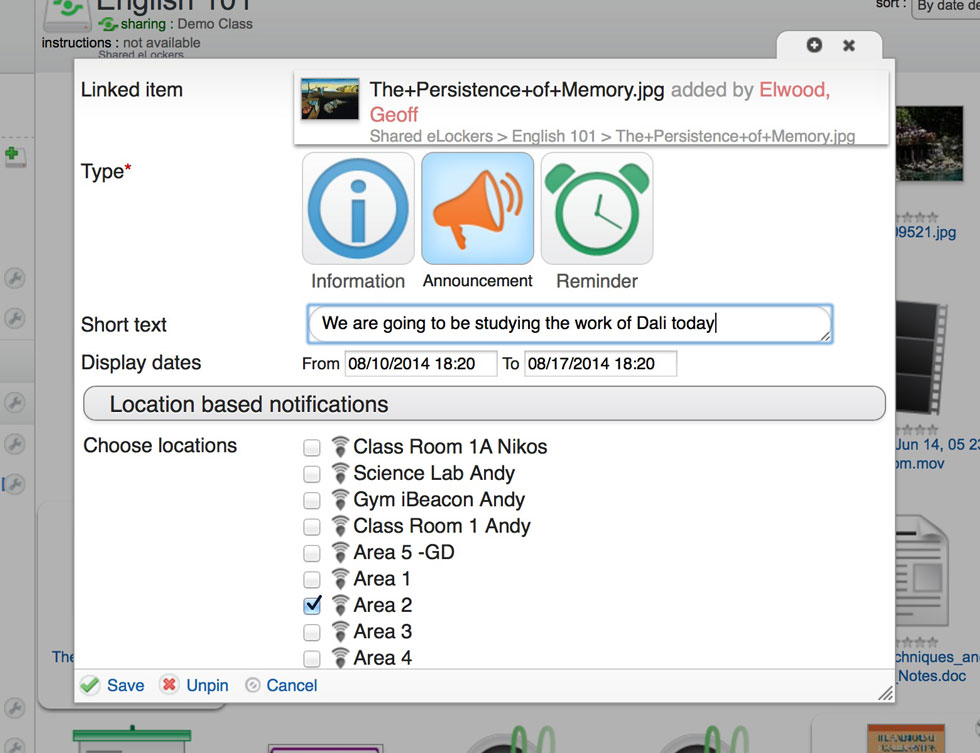 We have built out Pinboard publishing/management tools allowing teachers to add, view, modify and remove items published via the pinboard. You can even filter pinboard content based on which beacon it has been pinned to.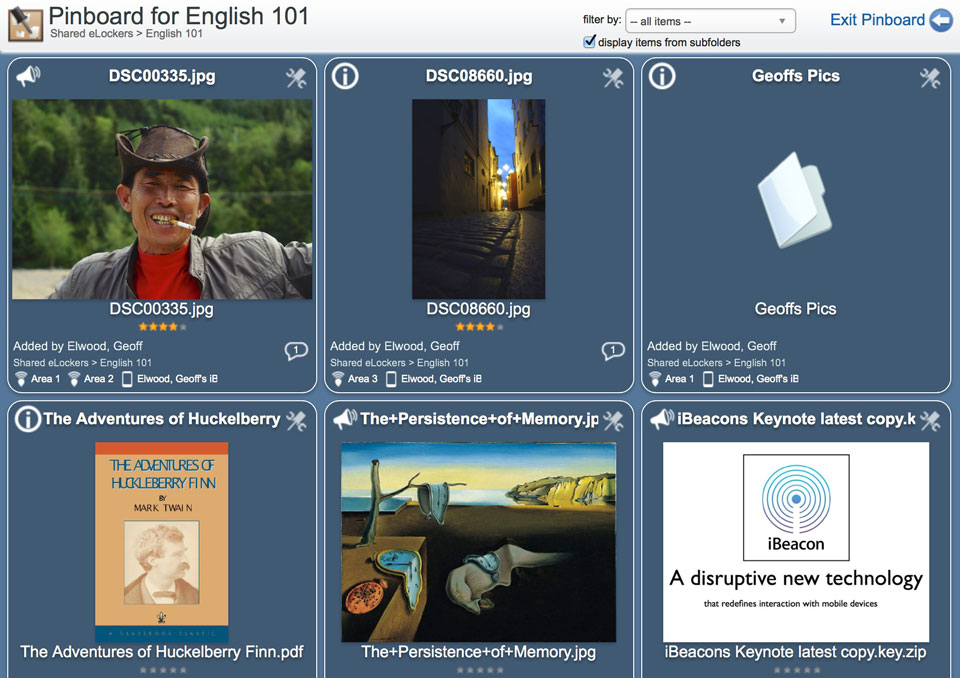 2. A LOT of heavy lifting has been going on "under the hood" to provide an iBeacons configuration layer. This allows administrators at a school to quickly and easily register beacons, define zones for them and to specify the active beacon proximity zone. This means that beacons and zones can be individually set to trigger a notification (pop up a pinboard on a users iPad / iPhone) based on "immediate, near, or far" proximities.
3. To provide the best possible experience for users, we have now updated eLockers to provide Graphical previews/thumbnails for virtually all content types, including images, PDF's, Pages, Keynote and Numbers, Videos and much more. This happens seamlessly and automatically behind the scenes whenever content is uploaded to an eLocker
4. A lot of fine tuning and "rocket science" has gone into refining our region and proximity zone entry/exit algorithms. This provides for an improved user experience with the pinboard and proximity map features of eLockers.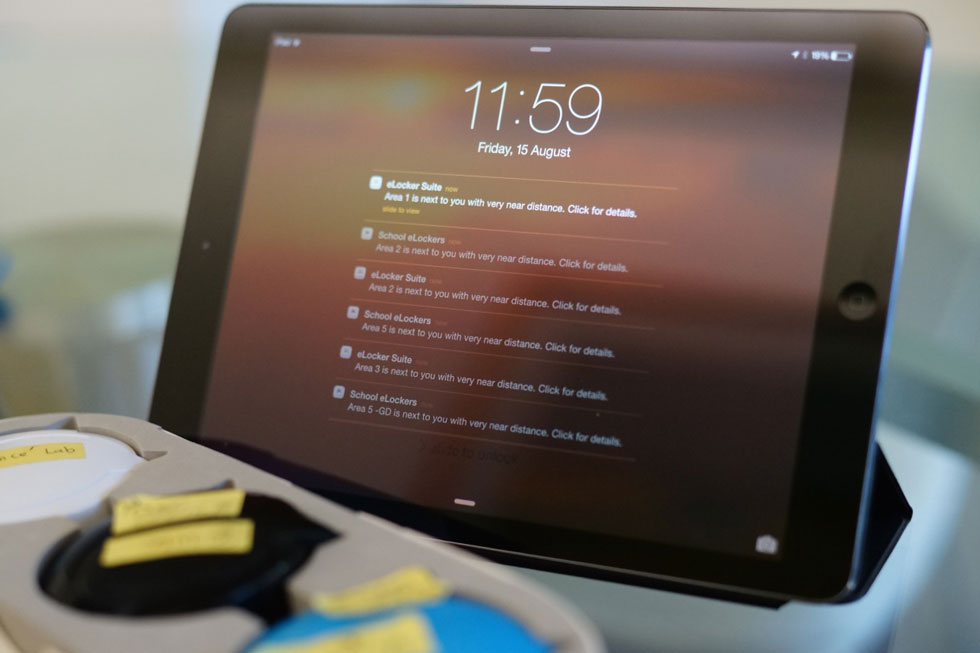 5. The School eLockers App has been updated (and just gone live in the App store). This includes our new Pinboard interface for iOS for presenting pinned items to the end user and allows for a quick overview and navigation to an items detailed view.
6. The location driven content push via automated pinboard launch in iOS interface is now a reality. This includes being able to push iTunes U courses, any form of digital content and notices and reminders etc. This also fully supports beacon notification when the app is in background / asleep.
7. Content push via personal Teacher iBeacons. Now this is REALLY COOL! This allows any teacher to pin content to their iPad / iPhone, and have it automatically appear on their classes iPads when entering a class. This has HUGE applications and implications for many different usage scenarios. We are really excited about the new forms of interaction this enables! Watch this space for more on this…
So now the roll out at Haileybury and Bryanston starts in earnest. We are managing this carefully and in a staged / controlled environment to ensure that we collect as much feedback and grab as many cool new ideas as possible.
We are starting with a small group of teachers / classes and 10 beacons at each school.
I have no doubt that once teachers and students begin interacting with each other using iBeacons and eLockers, they will discover whole new ways of exploiting this exciting new technology.
The mobile enabled classroom is about to get disrupted; again; and profoundly!
Exciting times :)
News - July 9, 2014
Introducing eLockers Plus

The Resource Delivery and Collaboration System for the BYOD classroom of tomorrow.

Welcome to the classroom of tomorrow:
eLockers+ allows the targeted push of digital content, reminders, and even Apps or Websites to specific students, on specific days, in specific lessons and classrooms, automatically with one click.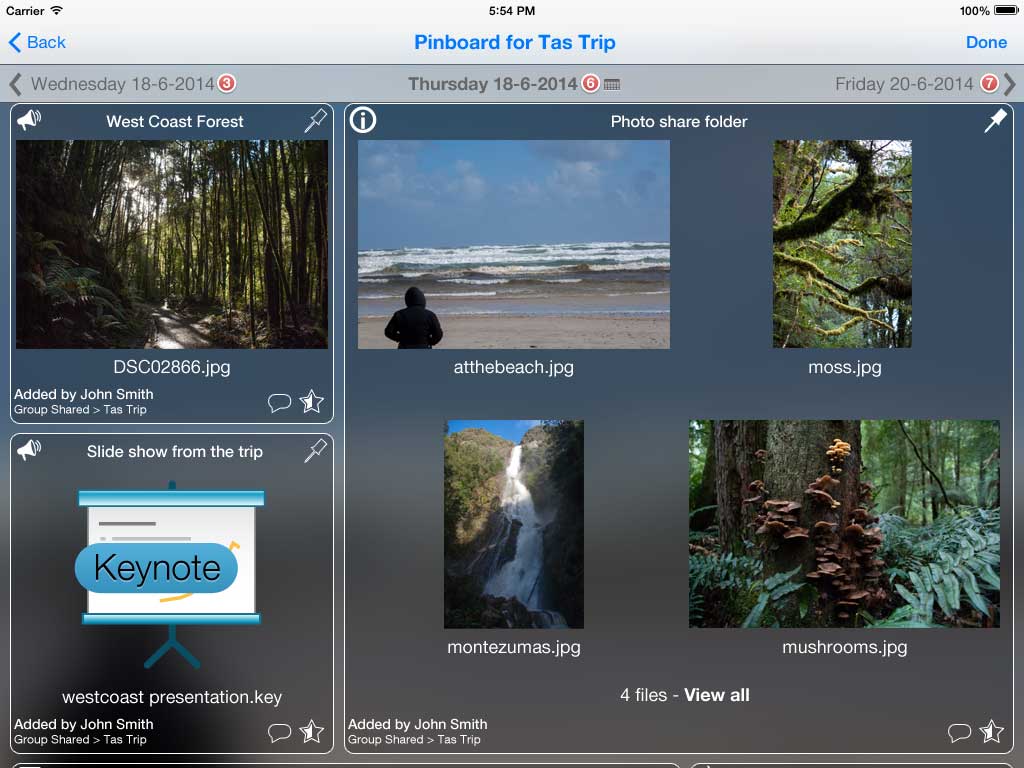 With eLockers+  you can now quickly and easily add the dimensions of space, time and context to the delivery of tasks, content and apps.
Deploying on your local school network,  solves the problem of  bandwidth bottlenecks and data privacy concerns
Simply drag content into a class elocker and all your students get it immediately.
Want your students to view a particular website, use a specific app, or read an important article?
Quickly share Apps, WebLinks, Notices and content with an entire class or group of students.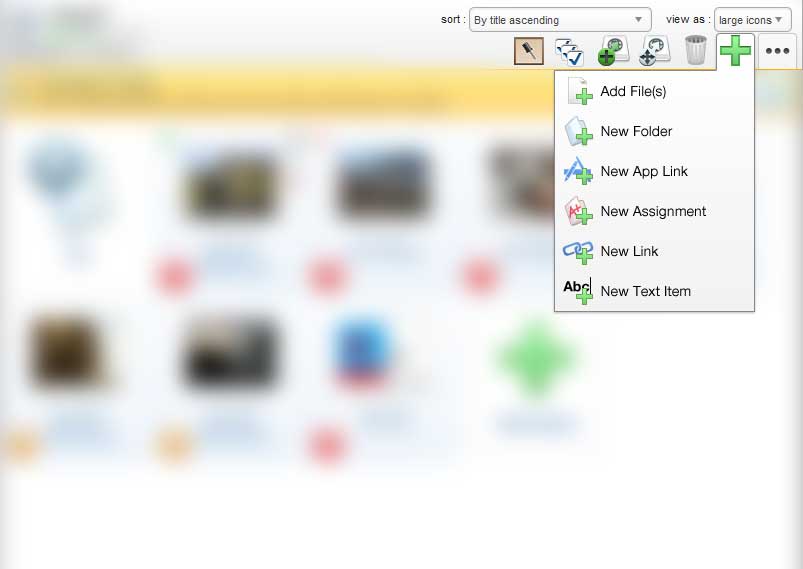 Introducing ProximityPush:
Developed in collaboration with Haileybury School in Australia and Bryanston School in the UK, we have taken the findings from two of the worlds largest 1:1 iPad / BYOD schools and combined this with the very latest iBeacon technology to create a whole new approach to the targeted delivery of learning.
Use our ProximityPush™ technology to have items delivered to a class or group automatically when students enter a physical classroom at a set point in time. 
Or remind students in your class of an upcoming exam as you pass them in the corridor.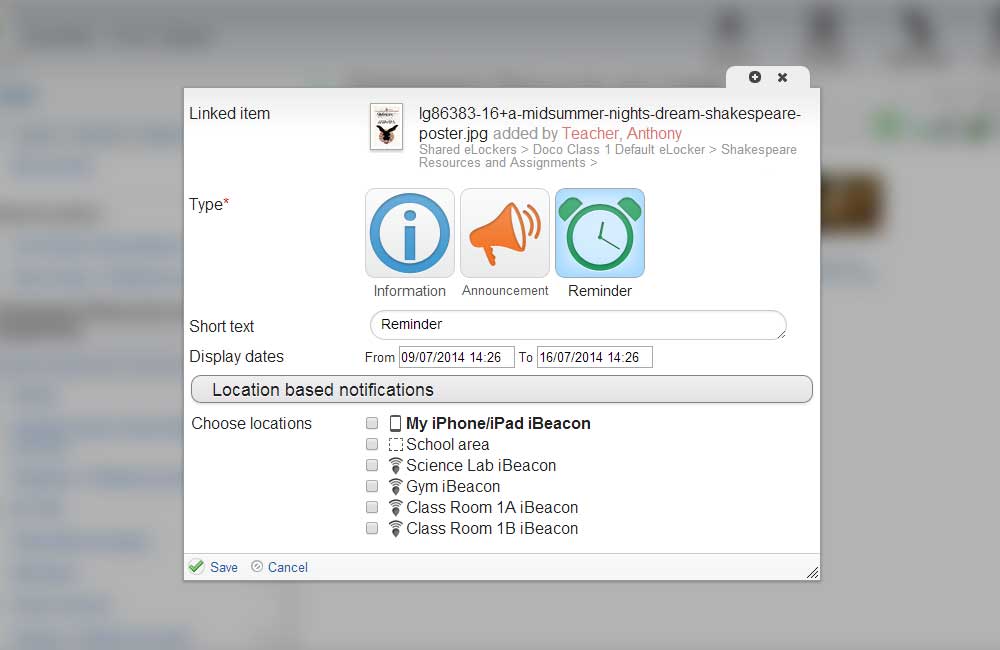 If you liked it then you should have put a pin on it!
Introducing the amazing new Pinboard in eLockers+
Even IF you are not deploying mobile devices, eLockers+ makes it incredibly simple to engage and collaborate with your students.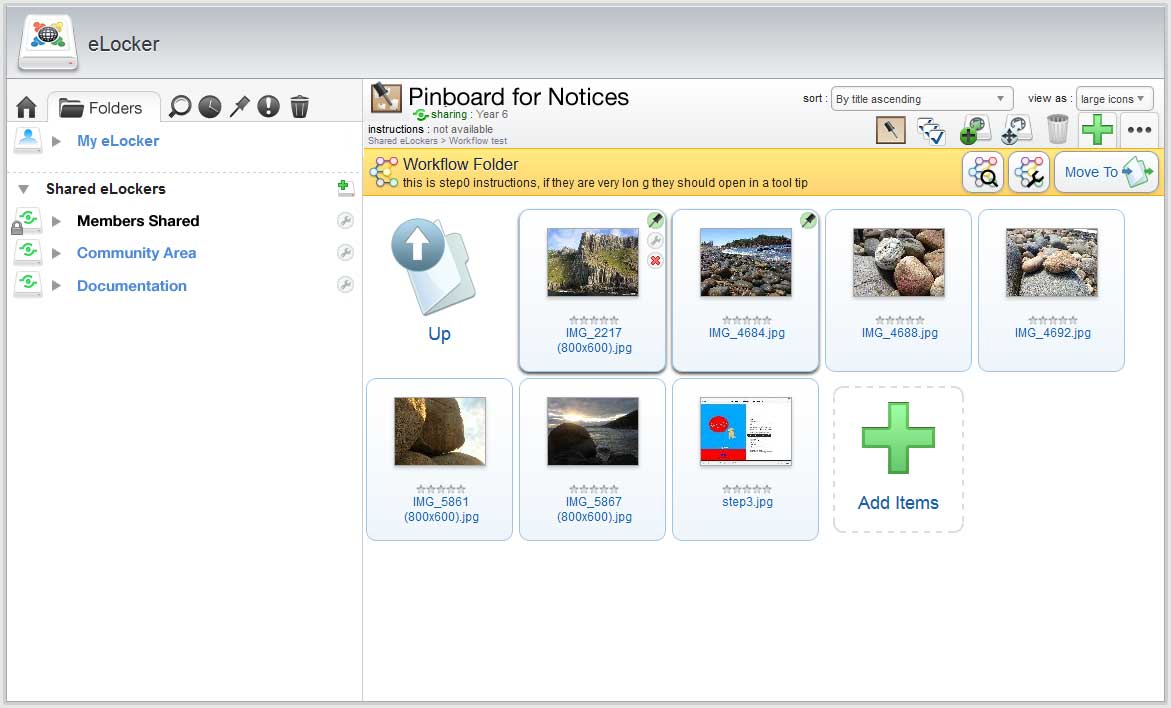 Want to draw students attention to an item in an elocker?  Just pin it.
Want to deliver an eBook to the literature class next Wednesday at 3pm in room 103? Just pin it.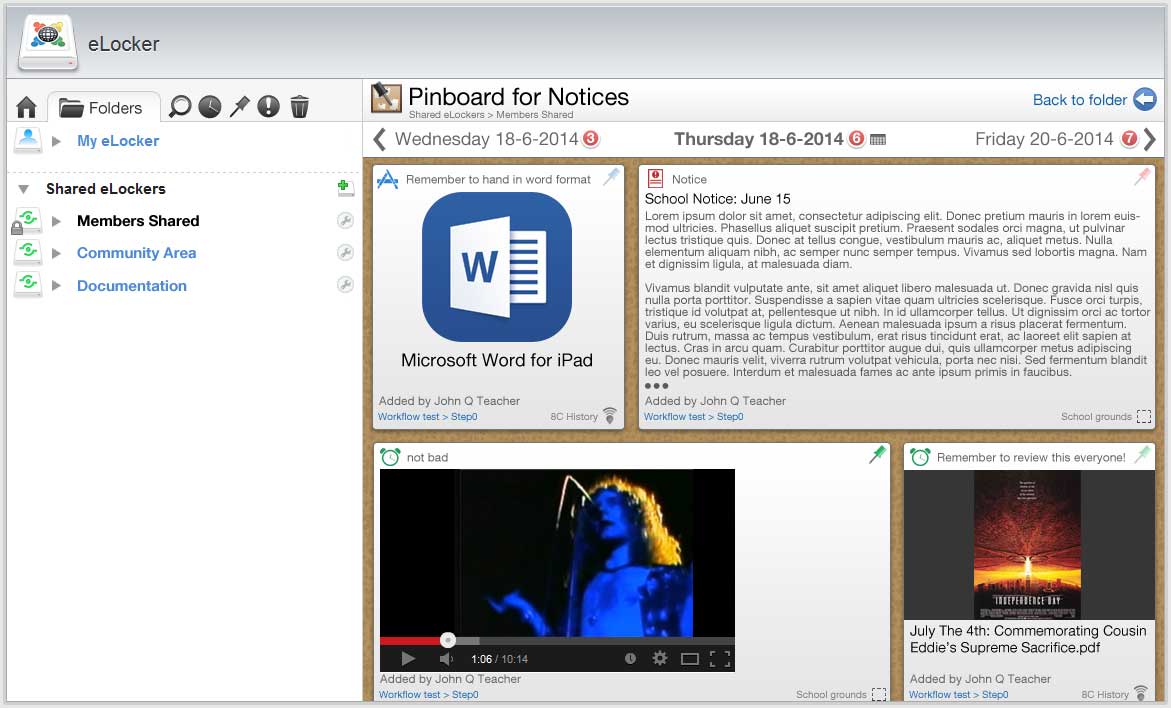 Want students to use a  specific app or website during today's lesson? Just Pin it.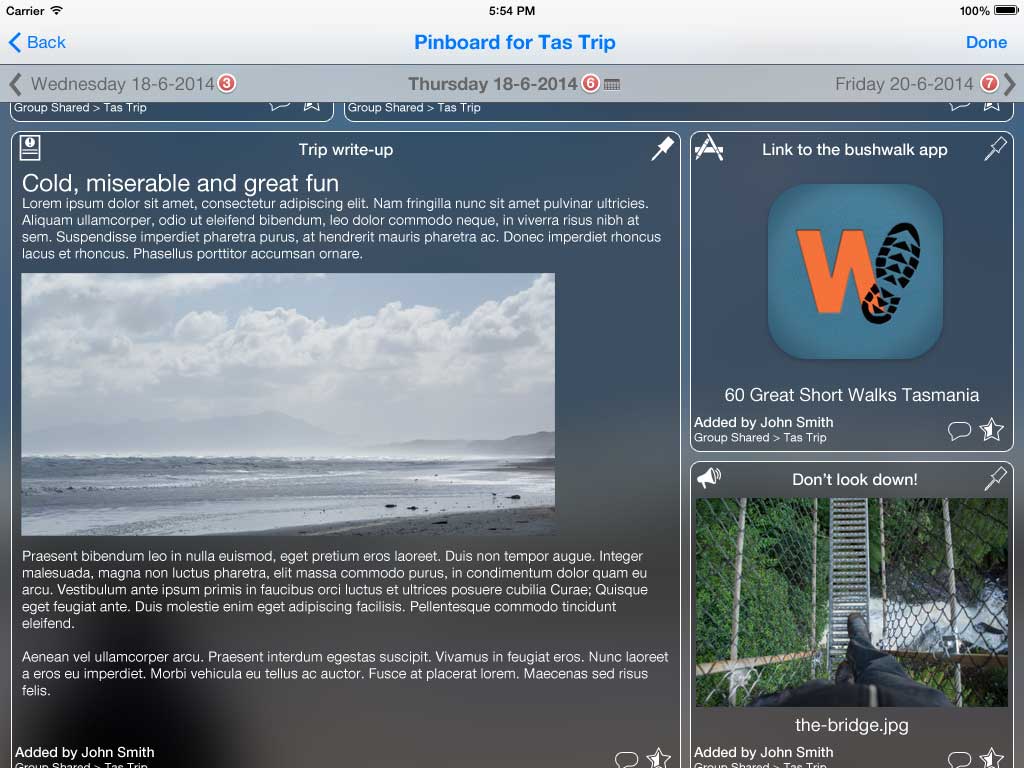 Introducing the Assignment Folder
eLockers+ provides One click creation of Assignment Workflows / folders
Solve the round trip of assignment task setting, collection, reflection and assessment with our simple yet extremely powerful new assignment workflow folder - Teachers can even set Apps as an assignment task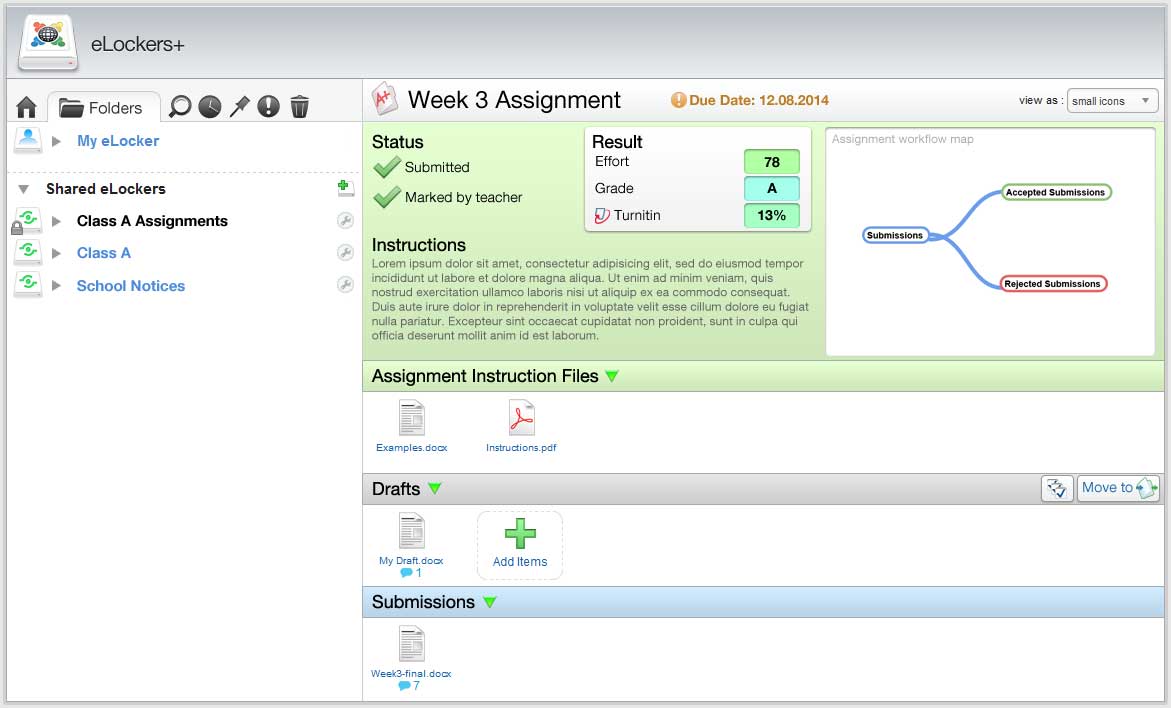 Report of submissions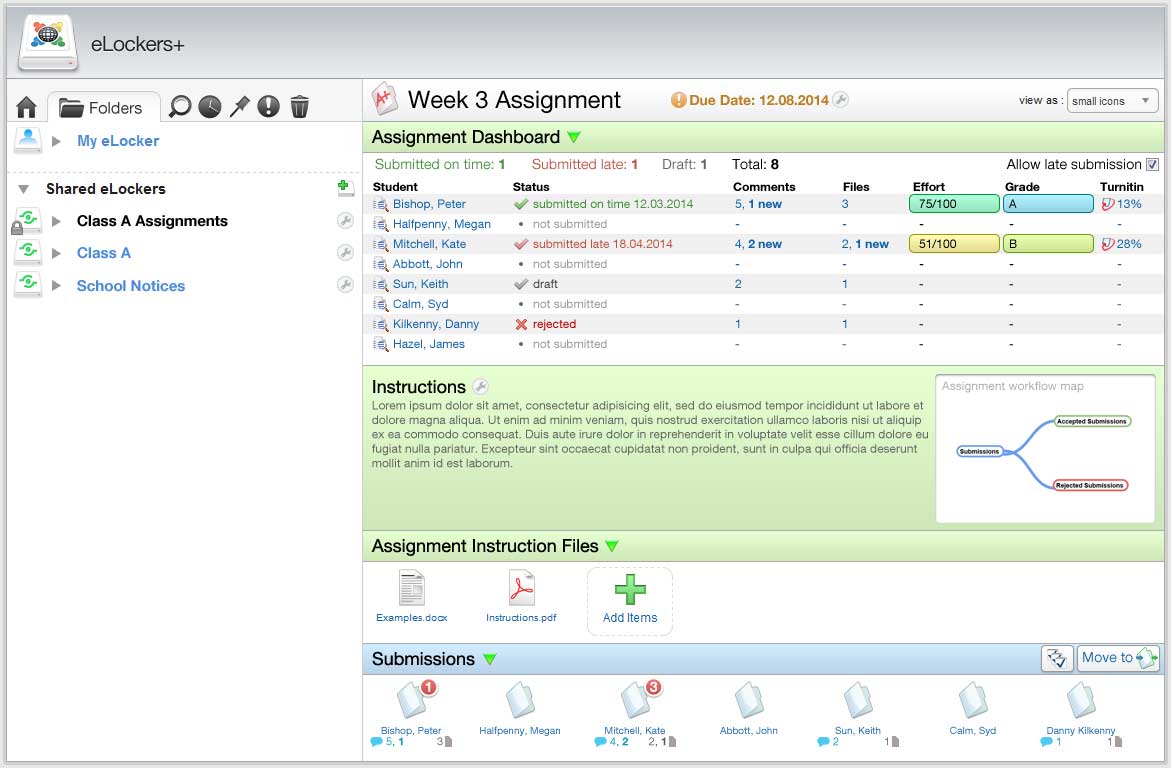 CurationMap of assignment workflow (showing student dropfolders in each folder) including TurnItIn integration
eLockers+ even provides the ability to take the standard Assignment Workflow (template) and adjust it to your specific needs  and add in the power of learner matrix for ultimate assessment flexibility.
Engaging young learners?  It's elementary
eLockers+ provides a simplified user interface for early learners: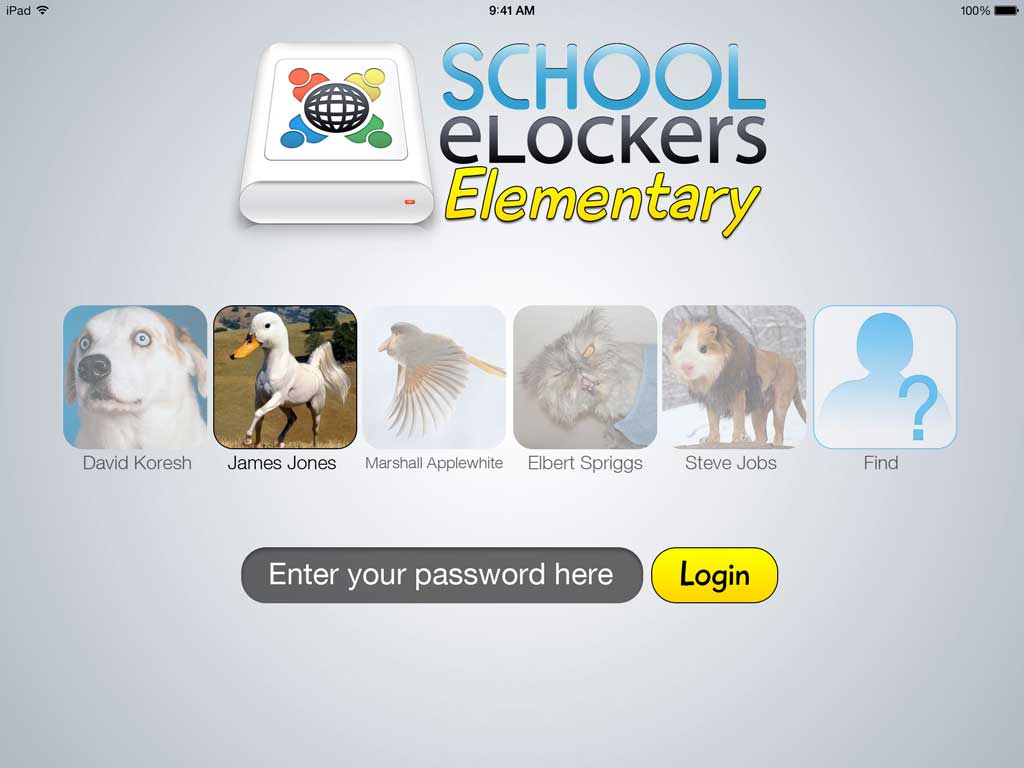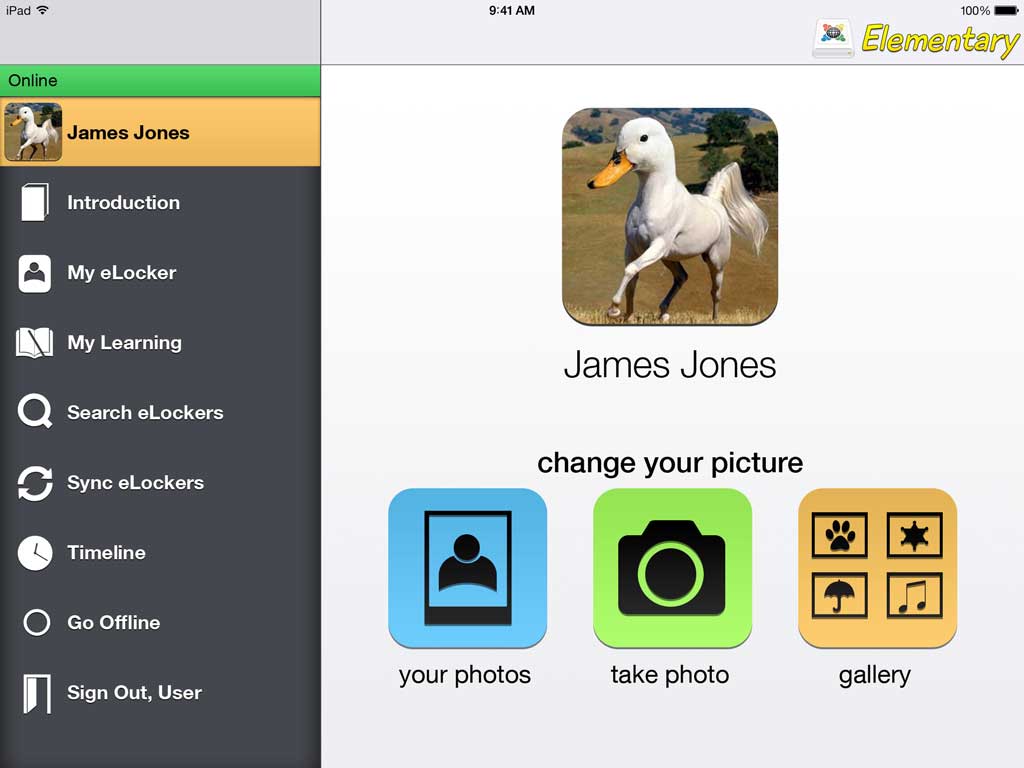 CurationMap - Templates
CurationMaps provide a brand new approach to dealing with content abundance.  Simply drag and define your own folder workflow with automated curation of content.



We have taken our groundbreaking CurationMap technology to a new level with the ability to  export and import CurationMaps, and to save CurationMaps as templates.
Imagine the power of creating your own ePortfolio CurationMap and saving it as a template for your students to use. 
Imagine creating a CurationMap template for an International Baccalaureate  Internal Assessment?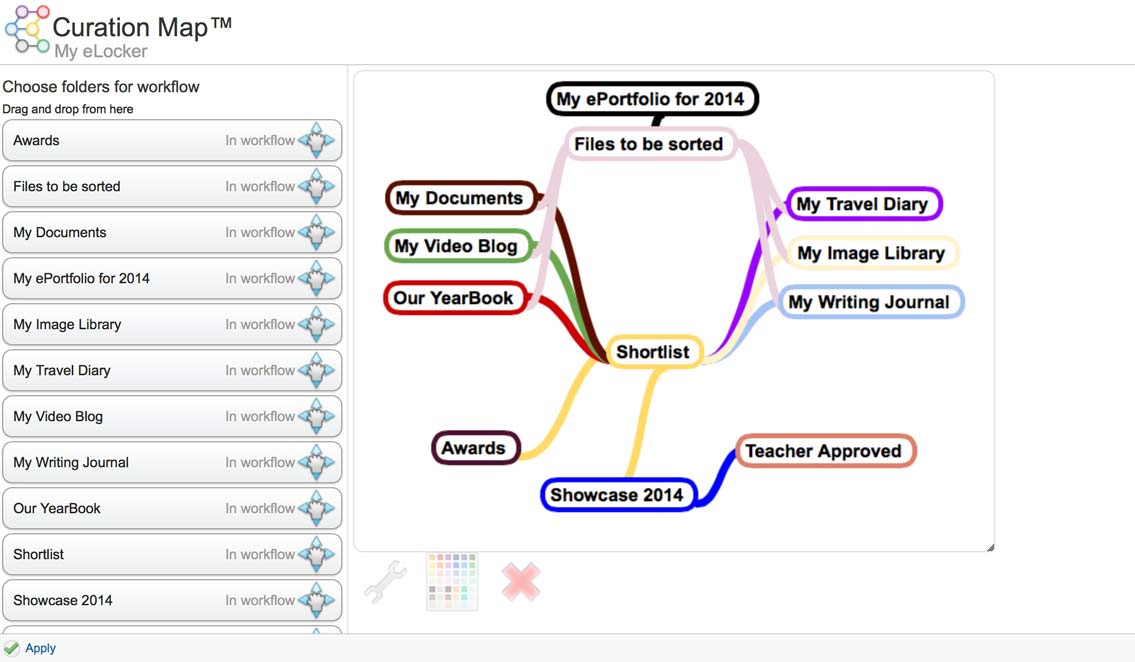 ProximityMaps

With ProximityMaps, students can quickly scan an area and see any beacons / teachers / resources within their proximity that they have access to.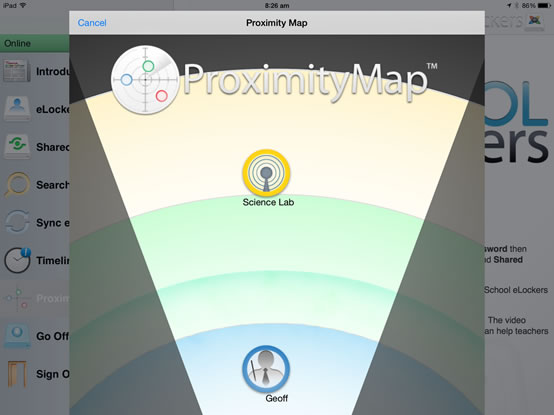 More News Articles